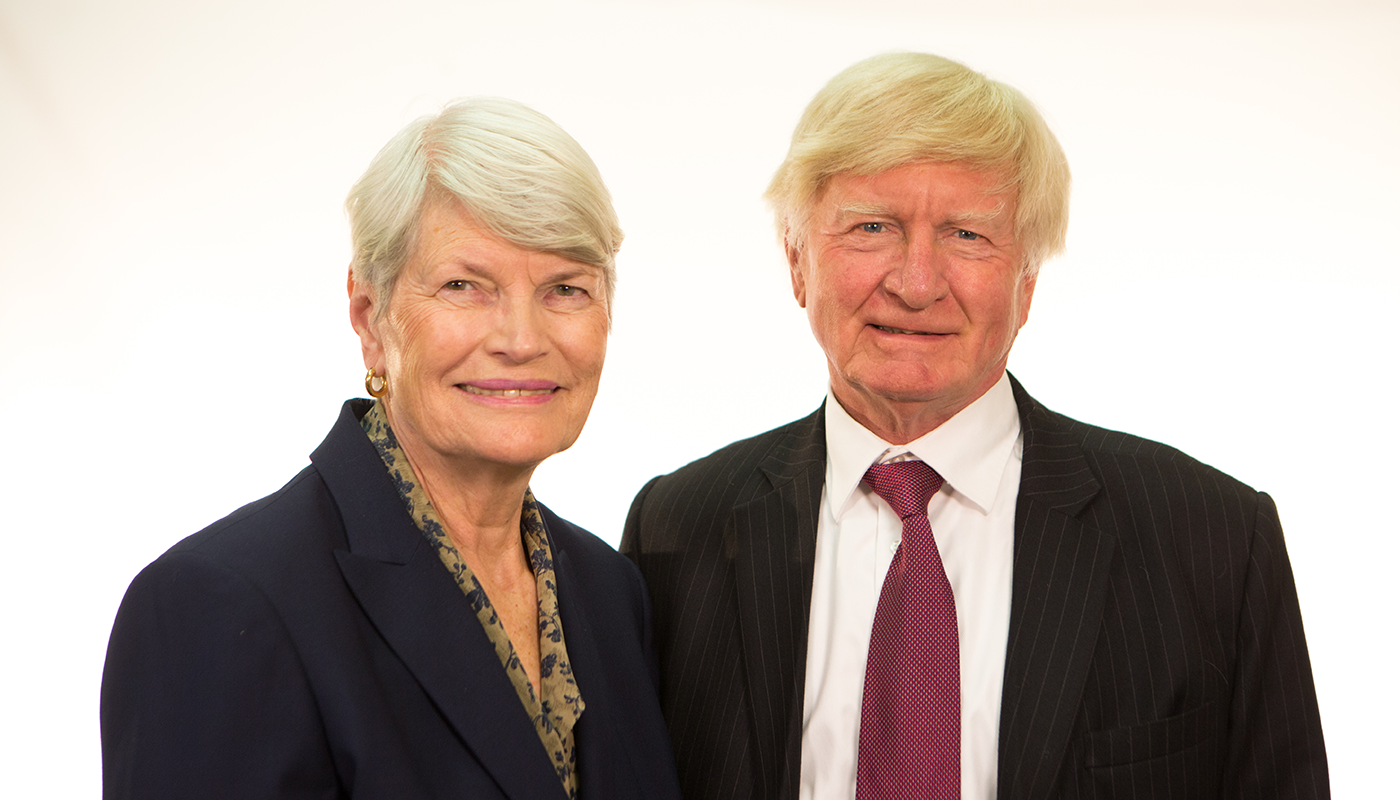 Donor Spotlight
Walter and Maria Schroeder donate nearly $20 million to launch first-in-Canada brain and heart centre
In conversation with the philanthropists behind The Walter & Maria Schroeder BRAIN&HEART Centre.
The Philanthropists: Walter and Maria Schroeder
The Cause: The Walter and Maria Schroeder BRAIN&HEART Centre, St. Michael's Hospital
The Gift: $19.125 million
YOU'RE CANADIAN PHILANTHROPIC LEADERS. WHAT MOTIVATED YOU?
Maria escaped with her sisters and mother from southern Germany in 1949 and came to Canada, eventually ending up in a refugee camp. They were very poor, and her mother was cleaning houses in Winnipeg for minimum wage. Her sisters also took turns working at minimum wage to support the family. In 1955, Maria was in grade 10, getting top marks, when she told her teacher she couldn't come back for grade 11 because it was her turn to work. One day, they got a knock on the door, and it was an elderly gentleman who introduced himself as Dr. Morgan, principal of Daniel MacIntyre High School, which Maria attended. Within 45 minutes, he convinced them to send Maria back for grade 11, and gave her $150, probably from his own pocket, to help them financially. He made a huge difference for the family and allowed Maria to continue and graduate from high school, and subsequently university, where we met. I said if I can do the same for others one day, I will! That day came in 2015.
TELL US HOW.
I came up with the idea for DBRS [a global credit rating agency that helps determine access to capital markets for governments, corporations and other borrowers in the global capital markets] while travelling to Montreal in a red VW Beetle with Maria and our sons, aged one and four, in the back seat. We had it all detailed by the time we got to Montreal. We then built DBRS up over nearly 40 years and sold it in 2015. That's where the money for philanthropy comes from.
LAST MONTH, YOU WERE INDUCTED INTO THE HORATIO ALGER ASSOCIATION OF CANADA, A CHARITABLE ORGANIZATION THAT HONOURS THE ACHIEVEMENTS OF CANADIANS WHO HAVE SUCCEEDED IN SPITE OF ADVERSITY AND WHO ENCOURAGE YOUNG PEOPLE TO PURSUE THEIR DREAMS THROUGH HIGHER EDUCATION. CONGRATULATIONS. WHAT DID THIS HONOUR MEAN TO YOU?
It recognizes the philanthropy that is probably warmest in our hearts – the massive scholarship program we have underway to help Indigenous people and poor immigrants in three Winnipeg high schools. It's designed to make sure the students get access to higher education so they can raise themselves out of poverty. We also realized that young people don't learn if they're hungry, so we opened a cafeteria at St. John's High School where we provide a nutritious breakfast and lunch to 200 students, on a heavily subsidized basis or free of charge for those who can't afford it. Throughout the school year, we also support 100 families with a food package for the weekend, to help feed those most in need.
YOU HAVE ANOTHER PASSION PROJECT: YOU ARE EXECUTIVE PRODUCER OF THE MUSICAL NO CHANGE IN THE WEATHER, WHICH HAS GARNERED POSITIVE REVIEWS. CONGRATULATIONS!
Yes, I have a passion for Newfoundland. Its culture is unique, the people so kind. We started to visit the province and fell in love with the music. We brought the music home with us and would play Newfoundland folk music on our trips to the cottage. We selected 18 songs, jukebox musicals, a plot and characters, and gave it to the professionals from Newfoundland to put together and take it across Canada. We are using the play to publicize the way Newfoundland is discriminated against on equalization, and also the problems in the Canadian system and the sad plight of the Canadian Indigenous people.
THE BREADTH AND DEPTH OF YOUR SUPPORT FOR ST. MICHAEL'S IS IMPRESSIVE. LAST YEAR, YOU WERE A JUROR IN ANGELS DEN – CANADA'S HOTTEST MEDICAL RESEARCH COMPETITION. WHAT WAS IT LIKE TO WEIGH IN ON THE NEXT MEDICAL BREAKTHROUGH?
It was a very interesting experience, as it was something I had never done previously. It opened my eyes to the types of innovation and hard work that are being done behind the scenes. Overall, I was very impressed by the calibre of work done by all the contestants.
AND WHY DO YOU SUPPORT ST. MICHAEL'S?
St. Michael's is a hospital that serves some of the poorest communities in Toronto. It is also very community oriented. It has a caring medical staff, and doctors who often give their own time to help others. Dr. Stephen Hwang, for example, the director of MAP Centre for Urban Solutions, whom we've supported, works with the homeless by providing medicine for the needy. It's that spirit of caring that attracted us to St. Mike's.
WHY BRAIN&HEART?
The hero here is Dr. Mark Peterson, who is finding innovative ways to operate using minimally invasive surgery. He's tackling operations that others don't have the expertise to do. As a result, we wanted to do something different for someone who was a pioneer in his field.
BRAIN&HEART would never have been started without the funding we're providing. It was a question of making a difference for people who otherwise would have died or had a miserable life because they couldn't survive the standard open-heart surgery, and who could benefit from some of the new innovations in surgical procedures.
The doctors at St. Michael's are saving lives. With better funding, they could save even more.
WHAT IS YOUR PHILOSOPHY OF PHILANTHROPY?
Give in your living years. You certainly can't take it with you. And it doesn't do any good to just blow it all or pass all the wealth to your kids. We are striving to do as much as we can in the living years, when we can see the impact and benefits of what we are doing. I also want to encourage others to be philanthropists. Philanthropy can provide seed funding to make amazing things possible that otherwise wouldn't happen in the health system, which is massively underfunded today.
Click here to learn about our campaign to build The Walter and Maria Schroeder BRAIN&HEART Centre. Or make a donation here.