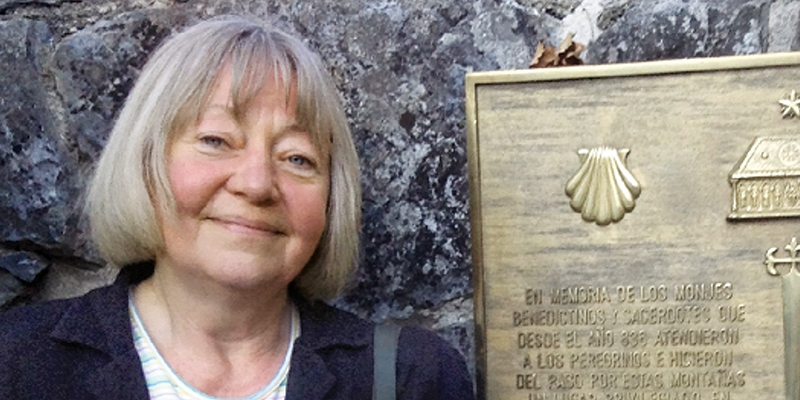 Donor Spotlight
Walking the world to fight MS
A journey along the historic Camino de Santiago led Laurie Dennett to write a book whose proceeds will support St. Michael's BARLO MS Centre.
Laurie Dennett doesn't have multiple sclerosis. But her mother did, and two other members of her family also have it.
That's what led Laurie to fundraise for MS societies around the world—and most recently for St. Michael's state-of-the-art BARLO MS Centre.
In 1986, Laurie decided to walk the historic Camino de Santiago, a network of ancient pilgrims' paths leading to the shrine of St. James in Santiago de Compostela, Spain. "I had just been made redundant from my job and I liked walking, so I thought, 'What can I do for MS while my mum is still with us?'" she says. Laurie, who was born in Toronto—at St. Michael's Hospital, on St. Michael's Day—but was living in London at the time, walked 1,600 km from Chartres, France, to Santiago de Compostela, raising awareness and donations for MS societies in Canada, the U.K. and Spain.
Laurie was so deeply affected by her journey that she wrote a book about her experience called A Hug for the Apostle; On Foot from Chartres to Santiago de Compostela and signed over her royalties to the MS Society of Canada.
Three years later, Laurie again walked for MS, this time from London to Rome, tying in the MS societies of all the countries she passed through. "I walked through Holland, Belgium, Luxembourg, France, Switzerland, Germany and Italy, and raised quite a lot of money and awareness along the way," she says. "It took me 13 weeks door to door. And it was fun—they dreamed up things for me to do, like open wine festivals and dish up ice cream and balloons in the town square." And then in 1992, Laurie undertook one more medieval pilgrimage, walking from Canterbury, U.K., to Jerusalem, and got the MS societies of Greece and Israel involved.
Altogether, over three journeys and 12 countries, Laurie has raised more than $500,000 for the fight against MS. "I did best on the Rome walk, where I raised $210,000 just for the Canadian society," she says. "And not all the donations were financial. Tons of people came forward to donate things like wheelchairs. There were some really nice spin-offs from those journeys, and meeting people was the best part."
A Hug for the Apostle sold out its initial print run in 1987 and has been unavailable for years, but it's now being reissued by the Toronto publisher Words Indeed, and Laurie is donating part of the royalties to the BARLO MS Centre at St. Michael's. "I don't make money out of the Camino, because it came to me as a gift," she explains. "I just feel so grateful for what I've had from the Camino."
A Hug for the Apostle is available in Toronto at Ben McNally Books (336 Bay St.) and Book City (1430 Yonge St.) and online at wordsindeed.ca.
Click here to learn about our campaign to build the world-leading BARLO MS Centre. Or make a donation here.