Research
St. Michael's summer students rake in awards for innovative research
These are the winning projects of the 2019 Keenan Research Summer Student (KRSS) Poster Competition.
Differentiating between types of brain tumours to improve the effectiveness of chemotherapy. A program to screen women for intimate partner violence to help professionals provide better support. A method of studying lymphatic drainage from the eye to advance the development of glaucoma treatments. And a software system that tracks patient appointments and information just might improve efficiency.
These are the winning projects of the 2019 Keenan Research Summer Student (KRSS) Poster Competition, awarded to St. Michael's summer students with the best presentations in three categories: Basic Science, Health Science and Clinical Science. The KRSS program, funded by the Keenan family, lets undergraduate and medical students conduct research at St. Michael's, supervised by a Principal Investigator (PI) scientist and/or physician. It culminates in a poster competition, and this summer's winners are Amber Jolly for Clinical Science, Megan Yuen and Amanda Mac, tied with Mohammad Aziz Uddin in the Basic Science division, and Jessica Rodrigues in the Health Science division.
At St. Michael's, our scientists work relentlessly to tackle some of the most challenging medical issues of our time, and chemotherapy resistance in brain tumours is one of them. Glioblastoma is the most common type of primary brain tumour, and one of the most aggressive, with a median survival rate of only about two years. There are several different types of glioblastomas that become resistant to chemotherapy in different ways, but scientists do not know why.
Jolly worked on that problem all summer under the supervision of Dr. Julian Spears and one of the Division of Neurosurgery fellows, Dr. Zsolt Zador. "Glioblastoma is an extremely heterogeneous disease, with six or seven sub-types," she says. "And every single tumour is different, so it's very hard to classify." The team turned to data for help. "Using an open data repository called the Cancer Genome Atlas, we were able to extract the profiles of 417 tumours," Jolly explains. "Then we used computational analysis to go through the samples. The beauty of that is you can take a lot of data and analyze it quickly and efficiently."
The team looked at the various types of immune cells they found in the tumours' micro environments, and discovered some distinctive characteristics. "We were able to sub-classify glioblastomas into groups based on the different immune cells we found around them," Jolly explains. "These immune cells correlated with the level of resistance to therapy in the tumour, so we were able to classify tumours based on that.
"Our goal is to find the pathways under which this resistance develops and then target them in order to design chemotherapy for the specific tumour, and increase survival time for patients."
OTHER WINNERS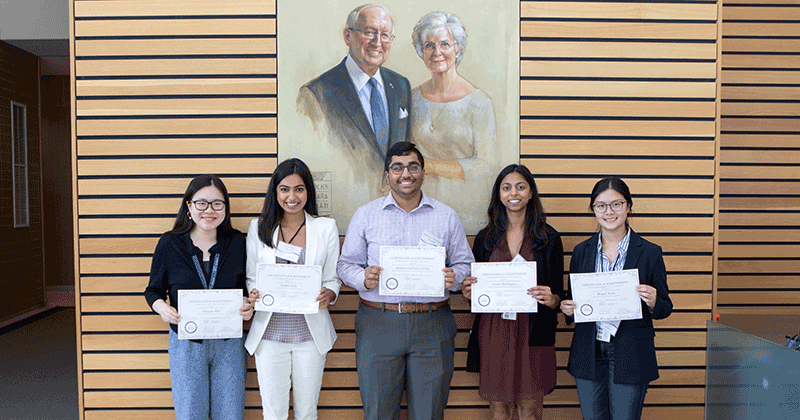 Basic Science: Amanda Mac and Megan Yuen's winning project studied the method now being used for lymphatic drainage from the eye, with the goal of improving it. Their team is designing a hybrid tracer that will make photo-acoustic imaging possible and lead to new treatments for glaucoma and other eye diseases.
Basic Science (tie): Mohammad Aziz Uddin looked at the booking software St. Michael's Hospital uses for patient appointments, too often a time-consuming and inefficient paper-based method. Using the Microsoft Access database management system, his team created a software system to increase efficiency. "I'm using my background in biomedical engineering to solve this problem," he says. "What drives me is knowing the work I do will improve the lives of physicians and allow them to provide better quality care for their patients."
Health Science: Jessica Rodrigues' WITHWomen (Web-based Innovations Targeting the Health of Women) explores ways to ensure that people who identify as women are screened effectively for intimate partner violence and provided with follow-up safety planning and support in both health-care and social-service settings. "Having a strong community of support with mentors like St. Mike's Dr. Pat O'Campo who are invested in my personal and professional growth challenges me to be better every day," Rodrigues says.