All-Stars
"St. Michael's saved my life."
Dr. Neil Fam goes where other hospitals can't to perform a life-saving procedure.
When Trudy Behan suffered heart failure last year, her prospects for survival weren't good. The 90-year-old cancer survivor had been diagnosed with a leaky heart valve six months earlier, and her condition had been steadily deteriorating.
Behan was rushed to a Toronto hospital, where doctors advised that to save her life she would need the MitraClip procedure, a minimally invasive surgery in which a clip is inserted in the leg or groin and guided to the heart to treat mitral regurgitation, or dangerous leakage. But that hospital didn't perform the procedure, and another hospital believed she wasn't a good candidate because of her age and the condition of her valve.
Trudy's daughter, Beverly, was all set to take her mother to Chicago, where doctors believed she was indeed a good candidate for the procedure. But, amazingly, a resident physician at the first hospital Trudy had visited walked her scans over to Dr. Neil Fam at St. Michael's. "This young resident told me he asked Dr. Fam, 'Who's right?'" Beverly recalls. "And he said, 'I agree with Chicago. I'll operate in five days.' And that's what saved her life."
Dr. Fam is director of Interventional Cardiology and Cardiac Cath Labs at St. Michael's Hospital and a pioneer in the treatment of valve disease. In 2018, he performed two world firsts—one where he inserted the MitraClip through the jugular vein, and one where he employed a new device called the Pascal System.
Trudy was in bad shape when she arrived at St. Michael's, and there were fears that she might be too weak to be weaned from the ventilator after the procedure. But Beverly remembers Dr. Fam saying, "I believe in giving people a chance."
Dr. Fam stopped at nothing to give Trudy the treatment she needed. "When he came out of the OR," Beverly remembers, "he gave me the thumbs up and said, 'She's off the ventilator. As soon as I got the clip installed, her blood pressure went up, everything went up, and she came back to life—it was like I plugged her back in.'"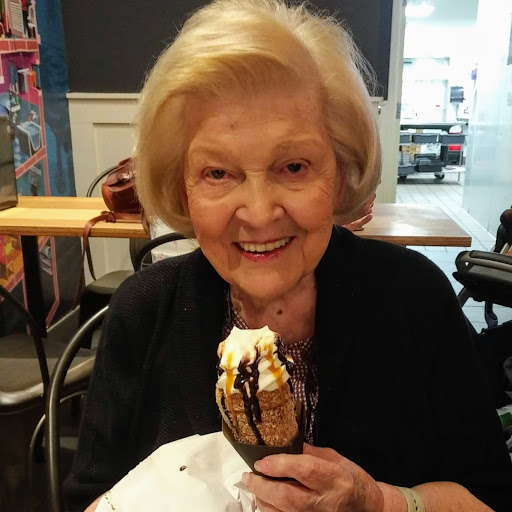 Trudy says her recovery was surprisingly swift. She was released from a rehab facility after only three weeks rather than the expected eight, and now, a year later, she radiates good health. "I'm very lucky," she says. "St. Michael's saved my life. I didn't remember a thing about it, to be honest. I was out of it, but Dr. Fam very kindly said he'd do the operation, and it's because of him that I'm here today."
"I've seen St. Michael's ads at Billy Bishop Airport," Beverly says." They say you'll stop at nothing, you'll say yes when others say no—and that's exactly what happened."
Click here to learn about our campaign to build The Walter and Maria Schroeder BRAIN&HEART Centre. Or make a donation here.