Patient Stories
St. Michael's heart research is saving lives
After three life-saving surgeries, the Lourie family is deeply thankful to the heart and brain surgeons at St. Michael's. They're showing their gratitude by supporting world-leading clinical trial research through our CardioLink program, led by Dr. Subodh Verma.
George Lourie's wife, Betty, knew something was wrong when George kept dropping his newspaper from his left hand. After she took his blood pressure and realized it had skyrocketed, she drove him to their local hospital, where they were told he'd had a mini-stroke. George was given baby Aspirin and sent home. "I thought, 'You've got to be kidding,'" Betty recalls, "and sure enough two hours later it was a full-blown stroke and I was calling an ambulance."
George was sent to St. Michael's Hospital, where Dr. Mohammed Al-Omran performed life-saving vascular surgery to repair the damage caused by his stroke. Now recovered, he is grateful to Dr. Al-Omran and the team at St. Mike's, including Dr. Subodh Verma, the cardiac surgeon and Canada Research Chair in Cardiovascular Surgery. "I feel good, and I absolutely credit Dr. Verma and Dr. Al-Omran," he says. "I am so fortunate."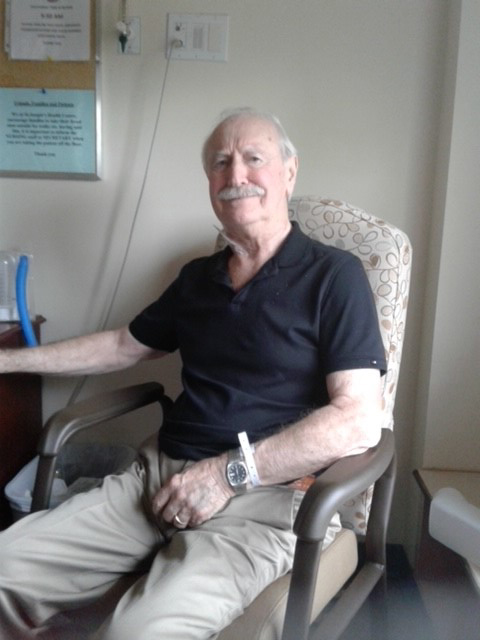 But George's gratitude goes deeper, as does his relationship with St. Michael's. His brother Bill had mechanical heart valve replacement surgery at St. Michael's 35 years ago, and more recently his daughter Lynn had surgery at St. Michael's for two aneurysms. "I don't know where the Lourie family would be today without St. Michael's," he says.
George is also quick to acknowledge the donor-supported research that has led to advances in brain and heart surgery. "Bill had open-heart surgery," he says. "Now they have minimally invasive surgeries. Procedures have advanced because donors fund research."
When Bill passed away in 2018, he left a gift in his will to support cardiac research at St. Michael's—specifically the CardioLink program led by Dr. Verma and Dr. David Mazer with support from platform manager Adrian Quan. Drs. Kim Connelly, Andrew Yan and Lawrence Leiter are also involved in the program.
CardioLink conducts surgically oriented clinical trials, and it has seen many successes. Among them are EMPA-HEART, the first study to show how a diabetes medication can protect the heart, and its follow-up EMPA-HEART 2, which will investigate whether the same medication can protect the hearts of people without diabetes.
The SEARCH-AF study monitored patients' heart rhythms after surgery to detect atrial fibrillation, which can increase the risk of stroke. The ENABLE-CP will determine whether a simple intervention delivered by a chiropodist or another health-care professional can prevent diabetic foot ulcers and potential amputations in people on dialysis with diabetes and peripheral artery disease. Dr. Mazer is particularly looking forward to completing ENABLE-CP, which is now on hold due to the pandemic. "I think ENABLE-CP will make a huge difference for patients, and to the health-care system," he says. "We're excited to get it going."
"From small beginnings, CardioLink has evolved into a real powerhouse, and it's putting St. Mike's and Toronto on the map in this area of research," says Dr. Verma. "Many successful trials and important advances have come out of it, as well as high-impact publications. It's now a hub of national and international cardiac research at St. Michael's Hospital."
You can donate to support CardioLink's vital cardiovascular research at St. Michael's here, or by contacting Susan DeLisle at delisles@smh.ca. Your contribution will be matched by The Condo Store, a longstanding corporate partner.