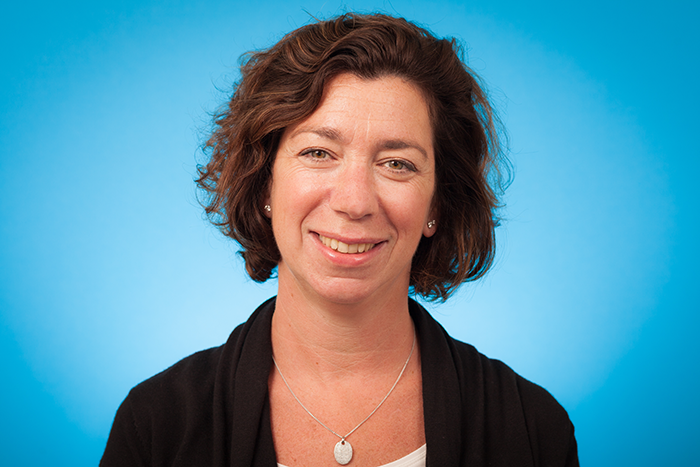 All-Stars
Researcher comforts sick babies with breath-of-life device
Dr. Jennifer Beck turns her fascination with muscle fatigue into a world-first technology that helps babies breathe easier.
NeoVest was the 2015 winner of Angels Den, a competition that brings together visionary researchers, leading business experts and celebrity judges to fund medical breakthroughs. Click here to learn more about Angels Den. 
As any parent can tell you, the impulse to check if their sleeping newborn is still breathing can be overwhelming. Even Jennifer Beck – an expert in respiration – would sometimes hold a mirror to her newborn babies' noses, waiting anxiously for it to steam up and prove they were breathing.
It's a memory she conjures up a lot these days as she launches a clinical trial of a new technology to help sick babies breathe easier—and avoid the tubes and wires that many are subjected to now. The trial, a collaboration with St. Michael's Neonatal Intensive Care Unit medical director Dr. Doug Campbell, will involve at least 10 babies.
Beck, an internationally renowned researcher at St. Michael's Keenan Research Centre for Biomedical Science, along with her team, has come up with a much less frightening and intrusive alternative to the traditional respirator. They call it the NeoVest and it does away with the tubes, masks and wires that can leave infants with deformed noses and get in the way of breastfeeding and bonding.
"I want to help the oldest patients down to the tiniest, most vulnerable ones," says Beck.
In healthy people, Beck says, the brain sends a signal to the diaphragm, telling the muscles to contract and relax, triggering a breath in and a breath out. In critically ill patients, the brain still sends the signal but the body can't properly fulfill the request.
Working with her research partner and husband, Christer Sinderby—also a renowned scientist at St. Michael's Keenan Research Centre for Biomedical Science—they came up with a solution. A sensor attached to the baby's feeding tube picks up breathing signals, which synchronizes the NeoVest to the baby's natural rhythm.
NeoVest has been gathering awards since its earliest conception. It won critical research funding at St. Michael's battle for breakthroughs, Angels Den, in 2015 and, in 2016, the Global Healthcare Innovation Academy's international competition.
Beck first became intrigued by the physiology of breathing while doing her master's degree and PhD at McGill University. As a competitive squash player, she was familiar with the muscle fatigue that comes after intense exercise. As a scientist, she was fascinated with its cause, effect and treatment.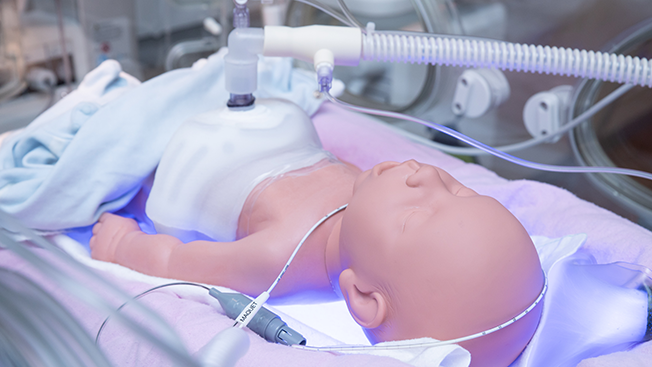 One of her physiology professors happened to be an expert in respiratory muscle fatigue and pointed her toward the study of the diaphragm, the most important breathing muscle. The rest, as they say, is history.
"Christer and I started our research projects on the same day," she recalls. "Our supervisor said, 'I want the two of you to figure out the electrical activity of the diaphragm.'"
The pair not only figured it out, they invented a technology that is now used around the world to sync mechanical ventilators to electrical signals from the brain to the diaphragm. They call it neurally adjusted ventilatory assist (NAVA).
With NAVA, patients no longer need to be sedated to help them deal with the severe discomfort of their natural breath being out of sync with the ventilator. This is especially important for babies, whose breathing is faster and more variable than older children and adults.
But Beck and Sinderby are nowhere near done with their work. As they await the outcome of NeoVest's clinical trial, they are forging ahead with other technologies linked to neural control of breathing. Already, they have nearly 30 patented inventions.
"Christer is the one who comes up with the ideas. He's the Einstein. I make it happen," says Beck. "He'll bounce an idea off me for weeks, and we'll argue over it. It helps massage his brain."
"We don't usually think about breathing," says Beck. "It's an automatic process. But what happens when you can't breathe? I want to help the oldest patients down to the tiniest, most vulnerable ones."
Click here to learn about our campaign to build a new, state-of-the-art NICU and Maternal Care Unit. Or make a donation here.