Donor Spotlight
"Giving back is who we are."
In conversation with the Middlefield Group's Dean Orrico, President and Chief Investment Officer, and Jeremy Brasseur, Managing Director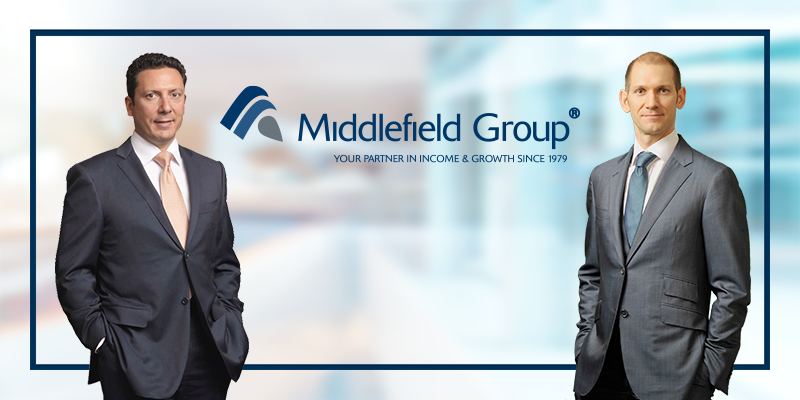 THE DONOR: Middlefield Group
THE CAUSE: St. Michael's Hospital
THE GIFT: $1.5 million
OF ALL THE CHARITIES THAT THE MIDDLEFIELD GROUP COULD SUPPORT, WHY HAVE YOU CHOSEN ST. MICHAEL'S HOSPITAL?
Dean: For both of us, it's personal.
For me, there's a family connection. My father is being treated in the cardio unit by Dr. Bob Howard, who is an absolutely superb doctor. That experience has confirmed that the level of compassionate care and treatment he receives is as good as it is anywhere. St. Michael's is the definition of what it means to be an Urban Angel.
Jeremy: I have the same view. I was born at the hospital. At some point, some of my children will be moving downtown. St. Michael's cares for that area – and with the increasing density of the downtown population, it's crucial that it continues to grow and have the resources to provide the best care. I want my kids to have every confidence in their hospital.
HOW ABOUT FOR THE COMPANY?
Dean: Middlefield has been a fixture in Toronto's downtown financial community for 40 years. And St. Michael's is an important part of this community. We believe it's important for us to support a leading centre that provides such quality health care.
WHAT'S BEEN THE POSITIVE RIPPLE EFFECT FOR MIDDLEFIELD?
Dean: Certainly, doing good benefits a company's brand. When your clients see you giving back to the community, it goes a long way to helping them understand that you are there to do more than generate a superior return on their investment.
In fact, it's part of our cultural fabric to give back. That's who we are. There are many important aspects to being a good corporate citizen and we want to lead in all aspects. We hope others will follow.
Jeremy: Doing good is also good for staff recruitment. I'm hiring the new generation of investment professionals, many of whom are living in the downtown core. We haven't necessarily advertised our association with St. Michael's to our employees, but we were certainly pleased when a recently hired staff member did a presentation and featured Middlefield's involvement in the Urban Angel Golf Classic on one of the slides. She noticed what we were doing. I think that goes a long way for employee pride.
WHY DOES CORPORATE CANADA NEED TO GET INVOLVED IN PHILANTHROPY?
Jeremy: Simply put, charities can't do the work they need to do without the help of the private sector. And that's especially the case with a leading hospital like St. Michael's.
MIDDLEFIELD HAS BEEN THE PRESENTING SPONSOR OF THE ST. MICHAEL'S URBAN ANGEL GOLF CLASSIC SINCE 2011. WHAT IS THE BEST PART ABOUT THE URBAN ANGEL GOLF CLASSIC?
Jeremy: The Urban Angel Golf Classic is an amazing day – from the moment you enter Angus Glen Golf Club, the signage featuring all the generous sponsors is professionally displayed for as far as you can see. The St. Michael's volunteers are everywhere – ensuring all guests have a fantastic, stress-free day. I may get in trouble for this, but every year since 2011, I've been stealing one flag that sits on top of every golf cart and which prominently shows Middlefield as the presenting sponsor. I have them all up on my wall at the cottage.
Dean: We have one client who has been golfing with us for years – he puts a hold in his calendar as soon as the date is confirmed. There is something magical about the event. It always seems as though we'll get rained out – this past year, thunderstorms were rolling through the city all morning. But as soon as it comes time to hit the greens, the clouds part and the sun shines down on us. It feels pretty much like divine intervention.