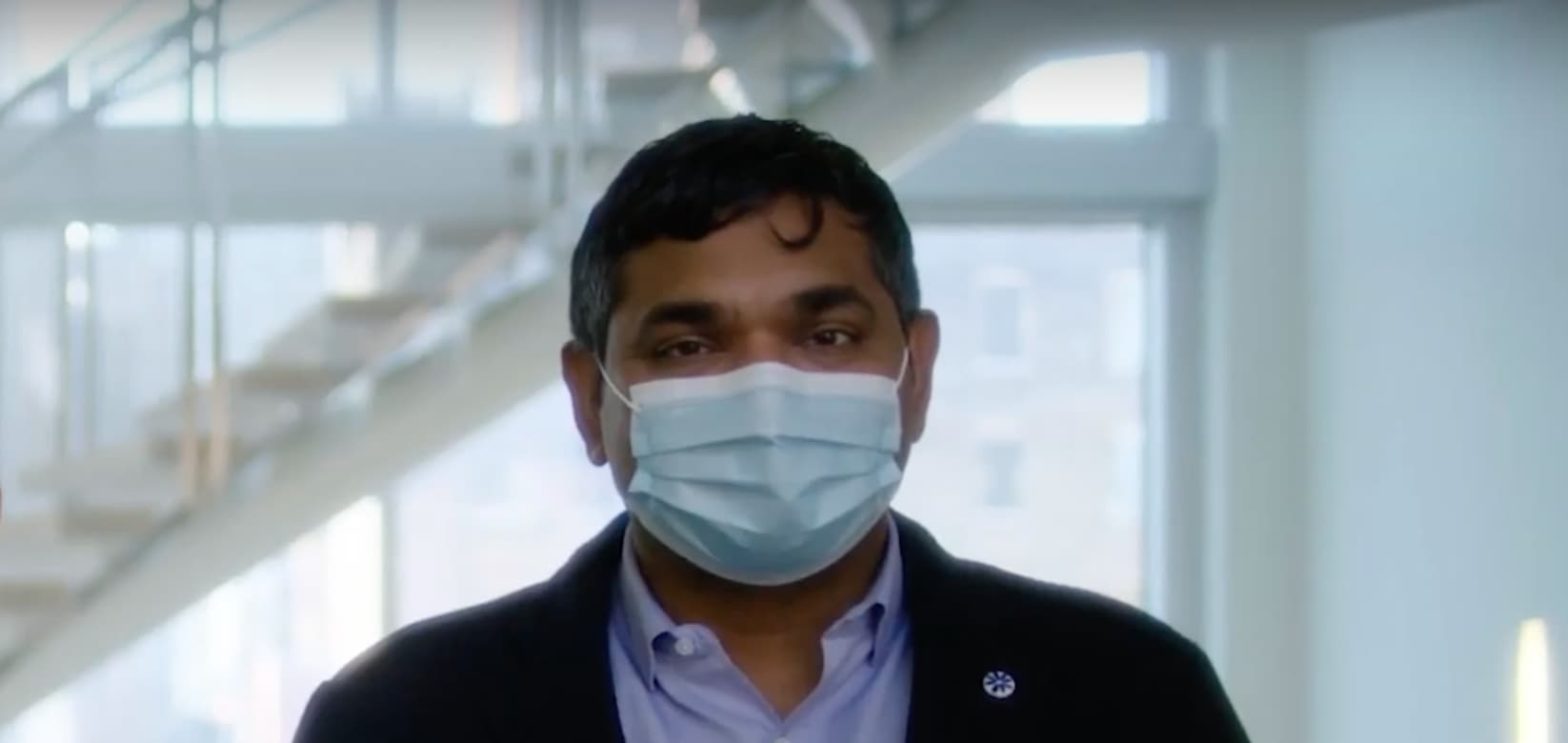 COVID-19 UPDATE: OMICRON AND KEEPING SAFE DURING THE HOLIDAYS
Many of you have questions about the pandemic, Omicron and how to keep everyone safe during the holiday season.
Dr. Fahad Razak – a St. Michael's internist and epidemiologist, and a member of Ontario's COVID-19 Science Advisory Table – brings you the latest insights and advice.
What is the modelling showing about the case load projections in Ontario?
We'll have more definitive projections for Ontario within the next day or two. Based on data from other countries with similar public health measures and vaccination rates, we anticipate that under Omicron, there will be tens of thousands of cases across the country, of which Ontario will account for half the case load. It will exceed what we saw at the peak of the third wave.
How will Omicron and the rising case load projections impact the hospital?
During the third wave, hospitals began working together as a network. That meant that hospitals that were under extreme pressure would transfer their patients – including non-COVID-19 patients – to other sites that were experiencing less of a surge. That's what happened at St. Michael's; we accepted transferred patients to ease the burden on other sites. We anticipate the same will happen now. If volumes become too large, that will again impact elective surgery causing more backlogs.
The big difference between the third wave and this one is that because there has been continuous pressure for two years, staff are experiencing a lot of fatigue and the staffing levels are not as robust. It will take less to overwhelm the system this time.
We've heard that while Omicron is more transmissible, it causes less severe disease. What are the facts?
Like the earlier versions of COVID-19, there are segments of the population – like older adults, people who are immunocompromised, people who have chronic conditions like heart disease, diabetes and high blood pressure – who are at higher risk of severe disease with Omicron, regardless of their vaccination status. For the average person there is no compelling evidence Omicron is less severe. We must act on the assumption for now, that Omicron can make people just as sick as the Delta variant.
How important is it to get a booster shot?
Very. Get that third dose as soon as the provincial health authorities say you are eligible. And remember the protective factor of the third dose kicks in about two weeks after the shot. That's when you're at your most protected, regardless of which vaccine someone received with the first two shots.
Here's how to book your COVID-19 vaccination:
What are the best masks?
Many cloth masks are not good enough with a more transmissible variant. Surgical masks are a minimum standard. The best masks are respirator masks – N95s – because they offer the best seal and the highest level of filtration, but they're not easy to wear every day, all day long. If you've had a booster, the surgical masks should suffice while taking other precautions to reduce exposure risk. And, where possible, look for manufacturers that are Health Canada approved.
We're heading into the holiday season. What is your advice about gatherings in public and private settings?
I'd advise caution – because we simply don't have all the evidence on Omicron. Caution means avoiding gatherings with people who are not fully vaccinated. It means reducing the number of people in any gathering to less than 10. And if you aren't sure about the safety of the location – and that includes good air quality through improved ventilation and filtration – and the status of the people who are there, it is best to avoid gatherings altogether. That holds true for private and public venues.
How about travel?
Again, it's a time for caution. I'd advise keeping travel very limited. We aren't sure what will happen at borders – that's a changing situation. Even domestic travel has risks, because large groups of people have to go through airports. It's a time to stay close to home.
Any final words of advice?
The evidence is changing rapidly. Two weeks ago, no one could have predicted how severe this wave would be. So the best advice overall is to keep a very close watch on the changing public health guidelines. It can be frustrating when it seems like we're getting conflicting advice. But we are learning in real time, and we're finding out new things every day about this variant and the impact of the spread.
Of course, unlike earlier in the pandemic, there's a lot more we know and can do now. We know the right measures to take to protect ourselves and our families through good quality masks, improving air quality and reducing exposure. And how to protect our communities through smart and effective public health measures. We have unbelievably effective vaccines and Canada has an abundant supply (more than enough to vaccinate our whole population many times over in fact). We have a range of treatments for those who get very sick and are not in the helpless situation we were when first presented with severe illness in early 2020.
And finally, being at St. Michael's gives me confidence, because along with being at the vanguard of research to combat this terrible disease, we are also advocating and looking out for those who are at the margins of society, people who have experienced the very worst of this pandemic.
We will continue to keep you updated and informed. On behalf of all of us at St. Michael's Hospital and Providence Healthcare, we wish you and your loved ones a safe and healthy holiday.