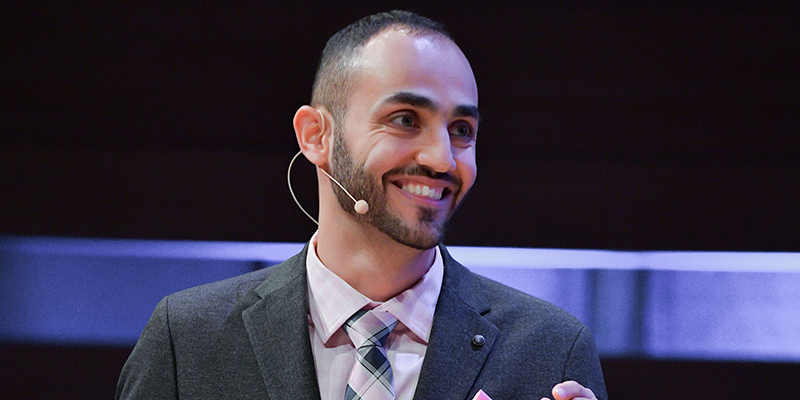 All-Stars
2019 Angels Den Winner: The People's Choice Award Presented by Canada Life
Dr. Mohammad Qadura developed a simple blood test to detect arterial disease.
Dr. Mohammad Qadura was happy just to be an Angels Den finalist, which guaranteed a $25,000 prize for his research project. But when he won The People's Choice Award – an additional $50,000 – he was ecstatic. "It was a very joyful feeling that my message came across and the majority of the people in that hall loved it."
Dr. Qadura is a specialist in peripheral arterial disease (PAD), a serious condition that he says gets too little attention.
PAD cuts off blood flow to the muscles in our limbs, just as heart disease cuts off blood flow to the heart. "It's the same disease, but in a different part of the body," he says.
The problem is that PAD is difficult to detect. "We are way behind in the diagnostic department," Dr. Qadura says. "There has been a blood test for heart damage since the 1990s, but nothing similar for PAD."
And even worse, he says, "there is a huge lack of awareness among physicians about arterial disease and how to identify it." As a result, patients are often diagnosed only at advanced stages of the disease, which can lead to amputations. The fact that PAD is the greatest risk factor for a future heart attack makes it doubly important to recognize early.
Dr. Qadura's solution: a simple, inexpensive blood test to detect arterial disease at an early stage, and allow doctors to start a treatment. His research team has identified a marker in the bloodstream that points to the disease. The next step is to run trials to verify the discovery.
His pitch clearly resonated with the audience. Judge Vincenzo Guzzo even owned up to having several risk factors for PAD himself, and said he wanted to get tested.
Dr. Qadura's $75,000 will fund a multicentre study in the GTA, which in turn could trigger additional funding. But really, he says, "the most important thing is raising awareness of a debilitating condition that's on practically no one's radar."
On November 13, eight teams of physicians and scientists found themselves at Koerner Hall to competing in the final round of Angels Den, Canada's hottest and richest medical research competition that awards $500,000 in funding to some of the most promising ideas coming out of St. Michael's Hospital.
The researchers pitched their projects to three celebrity judges – retail entrepreneur Joe Mimran, e-commerce pioneer Michelle Romanow and Quebec entertainment mogul Vincenzo Guzzo – as well as a jury of 39 business leaders, and an enthusiastic audience of 2,000 – half in-person and the others livestreaming at home.
Click here to watch the livestream here or learn more about Angels Den.