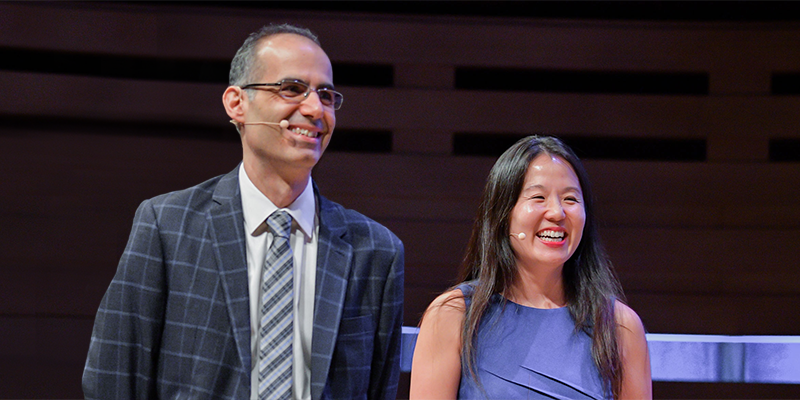 All-Stars
2019 Angels Den winner: The Odette Social Innovation Award
Drs. Jiwon Oh and Dr. Tony Antoniou are personalizing treatment for multiple sclerosis.
There are 14 different treatment protocols for multiple sclerosis (MS), but no way of telling which one will work best for a given patient. "We have very limited ways to predict how patients will do," says neurologist Dr. Jiwon Oh. "In the clinical setting, it's often almost trial-and-error."
Frustrated by the few answers she was able to give her patients, Dr. Oh teamed up with pharmacist and clinical epidemiologist Dr. Tony Antoniou, whose background is in HIV treatment.
The result of their collaboration is an artificial intelligence (AI) tool that can sort through enormous amounts of data and personalize MS treatment. That's what won them The Odette Social Innovation Award, and $150,000.
"Years ago, we had all these new drugs for HIV coming onboard, but didn't know how to use them really well," says Dr. Antoniou. "MS is in the same place today: there are more treatment options, but no great way to figure out how best to sequence them."
Their advantage: Canada's largest MS patient database that Dr. Oh set up in 2014. The plan is to build an AI system that will learn from the database and design a custom treatment plan for each patient.
Pitching the project on stage was "nerve-wracking," says Dr. Oh. "Koerner Hall is somewhere I've seen musicians play. But that made it a magical experience for me."
For Dr. Antoniou, it served a dual purpose: it secured research funding to hire a team of AI specialists, and just as importantly, it made their story public.
"Scientists shouldn't be operating in ivory towers," he says. "It's good for the public to know what we're doing. It brings people into the process, and takes a bit of the mystery out of it."
Angels Den 2019: The Odette Social Innovation Award goes to Dr. Jiwon Oh and Dr. Tony Antoniou who are personalizing treatment for Multiple Sclerosis
On November 13, eight teams of physicians and scientists found themselves at Koerner Hall to competing in the final round of Angels Den, Canada's hottest and richest medical research competition that awards $500,000 in funding to some of the most promising ideas coming out of St. Michael's Hospital.
The researchers pitched their projects to three celebrity judges – retail entrepreneur Joe Mimran, e-commerce pioneer Michelle Romanow and Quebec entertainment mogul Vincenzo Guzzo – as well as a jury of 39 business leaders, and an enthusiastic audience of 2,000 – half in-person and the others livestreaming at home.
Click here to watch the livestream or learn more about Angels Den.