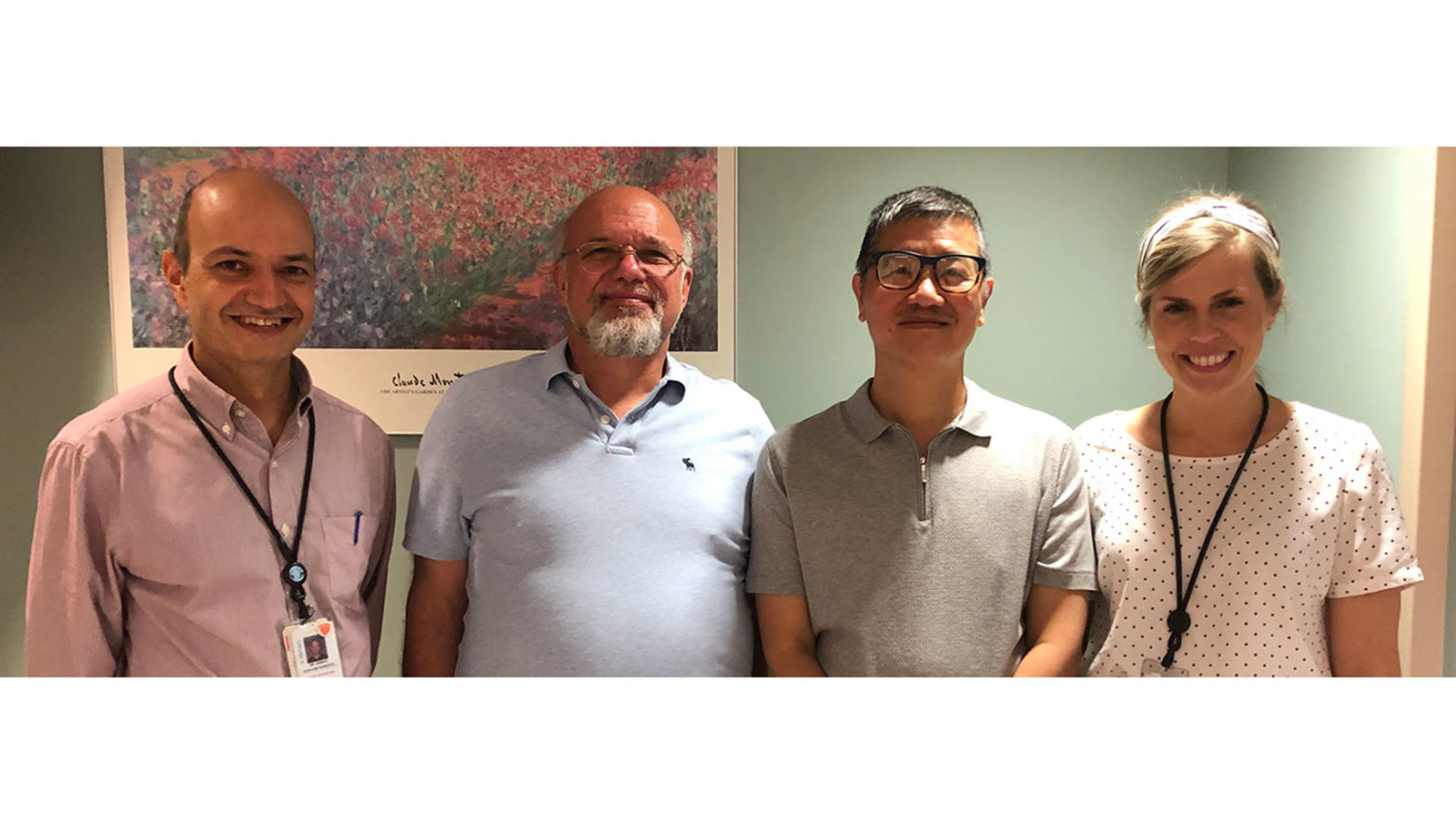 Patient Stories
The clinic that took on HIV when others wouldn't
The HIV program at St. Michael's Health Centre at 410 delivers world-leading expertise and compassionate family care.
When HIV hit Toronto's LGBTQ community in the 1980s, there was no treatment and diagnosis usually meant death, often within months. And if dealing with the medical issue wasn't enough, there was also the social and emotional trauma.
"It was a nightmare," recalls Paul Steier, at the time the co-owner of a company involved in Toronto's gay community. "Our employee relationships were very close, like a family. And in less than two years we lost more than 30 per cent of our staff, and many more were showing signs of sickness. So I started investigating medical professionals who could help because most family doctors outside the downtown core had little to no knowledge about it."
Steier was eventually directed to a small downtown clinic behind Wellesley Hospital. It was led by Dr. Philip Berger, who would later be known as a renowned pioneer in HIV/AIDS care and champion of accessible health care. "It was the centre of HIV information and care," says Steier. "Dr. Berger is a man of compassion and integrity, and the other doctors and nurses shared his emphasis on expertise combined with empathy. The waiting room was filled with judges, lawyers, policemen, homeless and psychiatrically challenged people with one thing in common: HIV. Here were people who would never normally mix, and yet they were talking to each other, helping each other. There was dignity and hope, and the doctors and nurses gave patients some comfort."
That groundbreaking clinic, which took on HIV/AIDS care when others wouldn't, is now the Health Centre at 410, part of St. Michael's Hospital Academic Family Health Team. And its HIV program is the largest in Ontario, with 1,700 patients. Dr. Berger, who has since retired, brought it over to St. Michael's in 1998 when Wellesley closed, along with a number of clinicians and patients— including Steier.
"In the late '90s my late partner contracted HIV and we became patients at 410," he says. "I was introduced to Dr. Abbas Ghavam Rassoul, and more than two decades later I am still his patient. I later contracted HIV myself, and my partner and I both had illnesses that made treatment extremely complex. When my partner passed, Dr. Ghavam helped me through my struggle and gave me friendship and a feeling of family."
HIV care has changed since the early days. There is still no cure and it remains a serious global issue—causing more than 770,000 deaths last year, according to the UN—but it can usually be managed with medications. "When people got access to the medications it was revolutionary," says Dr. Gordon Arbess, who came to St. Michael's with Dr. Berger and is now the HIV program director. "The prognosis is much better today. But there are still many issues: patients have many co-morbidities and complications."
"The 410 clinic remains the most important comprehensive HIV care and treatment facility in Toronto," says Steier. "It's different now, but you don't see a change in the care. You still see the kindness and the dedication. And because the clinic is part of the hospital, patients have access to great medical care, procedures and specialists. But there's a family feeling that you don't usually get in medicine."
"It's team-based care, which is unique in Canada, I think," says Dr. Arbess. "We have staff who just see HIV clients: a nurse, a nurse practitioner, a dietitian, a social worker, a pharmacist. Our clients are complex; they usually have multiple medications, medical problems and social and economic issues."
The team has developed world-leading expertise in caring for HIV patients and helping them deal with those issues, including the social and emotional ones. "A lot of them have been stigmatized since they got their diagnosis," says Dr. Arbess. "They may have been shunned by their family, and some, especially the younger ones, are out on the street. Often they turn to substance abuse to cope. They can't work and have to go on disability, and their housing is usually inadequate."
Dr. Arbess's team works relentlessly to identify and meet their needs. "Patients say they feel safe and welcome here," he says. "We're used to working with marginalized populations. I think that's where we excel. Other places can offer good care, but not the holistic care that we deliver. We deal with all the aspects of someone's life when they're living with HIV."
The clinic also conducts HIV research and education programs. "We get students from all over the world who want to do their elective here, because they see populations they're not used to seeing," Dr. Arbess says. "Education is a big part of what we do."
But Steier says the main reason why the 410 clinic stands out is the attitude of the staff. "It has to be a calling, I think, and the calling isn't money for them," he says. "The calling is kindness and dedication. I was blessed to find a new partner, and he has shared the 410 experience with Dr. MaryBeth DeRocher, another example of what the best care can be. And he shares my faith in the medical professionals who make 410 what it is."
Next year, the Health Centre at 410 and the St. James Town Health Centre are set to move from 410 Sherbourne—a site that has been too cramped for too long— to a brand new building around the corner at 155 Wellesley.
Help us raise funds to allow this remarkable team to continue their work. Contact Ashley Downey, Associate Director, Philanthropy, St. Michael's Hospital Foundation at DowneyA@smh.ca or 416.864.5934.