Patient Stories
"It's a hospital, but it felt like home."
Breast cancer survivor Vinny Bhathal is giving back to the St. Michael's team that went above and beyond to give her the care and support she needed.
It was March Break 2017, and Vinny Bhathal and her husband were supposed to be heading out on a U.S. university tour with their 15-year-old son. Instead, they found themselves in the waiting room of St. Michael's CIBC Breast Health Centre.
"You have breast cancer, and it's very aggressive," Dr. Rashida Haq, a medical oncologist, told them.
At 45 years old, Vinny was diagnosed with rare triple negative breast cancer. "I felt as though I was hit by a train," says Vinny. "I just sat there, numb — reading the report and thinking, 'I can't have cancer, no one in my family has cancer.'"
The interprofessional team at St. Michael's suggested a treatment plan that involved immediate chemotherapy, followed by a lumpectomy. Nine days later, Vinny began her chemo treatment.
"My legs felt like they were getting crushed — no pain medicine helped," she recalls. "I couldn't do anything, my strength was going away, my appetite was all over the place, and my sex drive went out the window along with my hair."
But, through one of the most challenging times in her life, Vinny found strength in the staff at St. Michael's cancer care centre.
"Yes, it's a hospital, but it truly felt like home. Dr. Haq is like a tiger mom, totally protecting her patients and making sure everyone in their family is getting the support they need."
Dr. Haq is known for going above and beyond, embracing a patient-centred, personalized approach to care.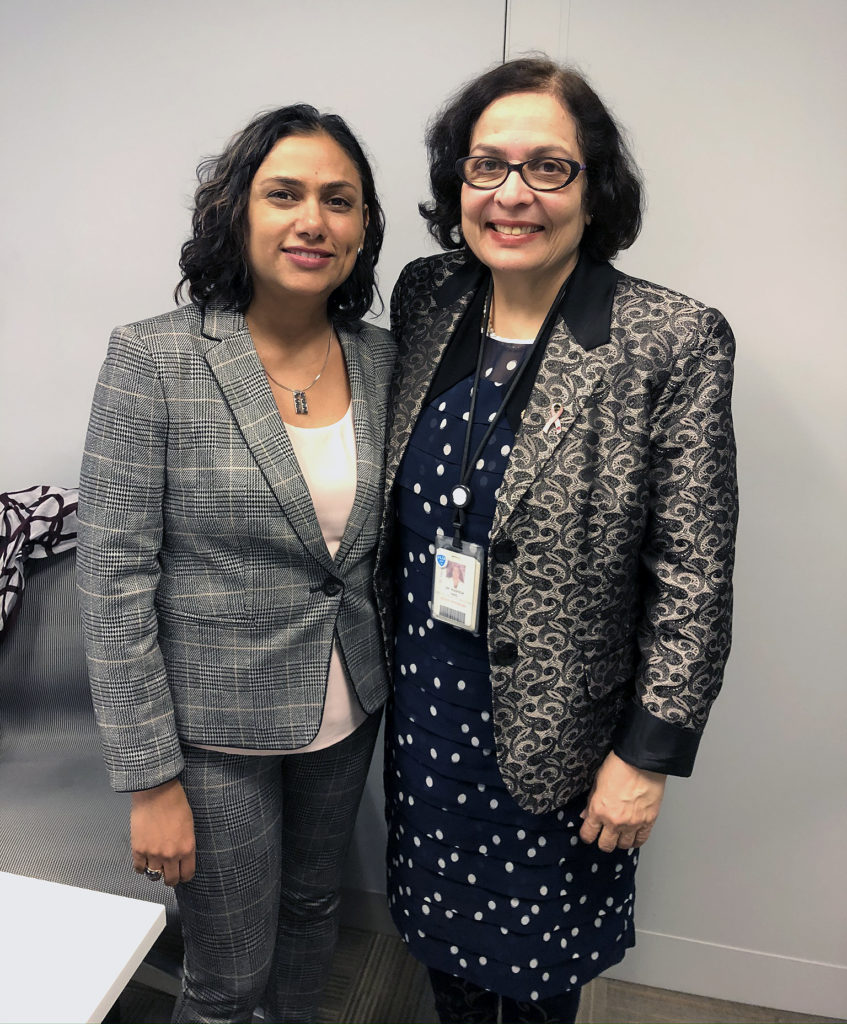 "If someone needs to talk, I'm here for them. We don't need to do a full exam every time, but open communication is vital," says Dr. Haq.
After eight rounds of chemo, Vinny had a lumpectomy with Dr. Adena Sheer, a surgical oncologist at St. Michael's who specializes in breast health.
It's now been three years since her diagnosis, and Vinny is thriving – back to work full-time as CFO of Sprott Asset Management LP and managing director of finance and investment operations at Sprott Inc., a global asset management company. And she is now part of St. Michael's community of donors.
"I'm very lucky to be alive," she says. "I knew I needed to give back to the team that gave me my life back."
With Vinny's support, St. Mike's launched a quality improvement project to test the benefits of exercise in breast cancer patients — something Dr. Haq feels is key in the recovery journey.
"During chemotherapy patients feel sick and are unmotivated to perform physical activity," she explains, "but there are so many health benefits for the heart, the bones, the brain and the muscles."
Through eight biweekly clinics, patients met with a physiatrist and a trainer who worked with them to create individualized exercise plans.
"We found there was a real benefit," Dr. Haq says. "Some who were not typically active did 5,000 steps and felt a real sense of accomplishment."
Dr. Haq plans to create a more formal exercise and survivorship clinic for all breast cancer patients at St. Mike's. And Vinny plans to support the relentless cancer care team at St. Mike's by starting a fundraising walk/run this year.
"Giving back to St. Mike's has been very meaningful to me," she says. "I know I'm just one small piece — we need others who have been impacted by the care at St. Mike's to come together and help the team complete these life-changing programs."