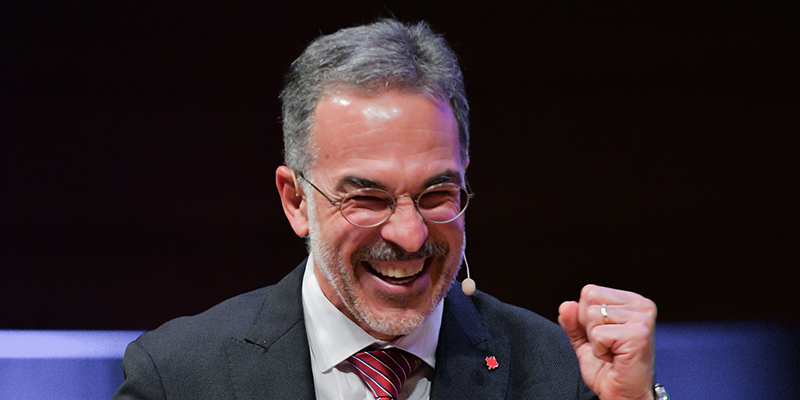 All-Stars
2019 Angels Den Winner: The Keenan Biomedical Innovation Award
Dr. Joao Rezende-Neto is saving livers and lives with a simple piece of plastic.
The trauma unit at St. Michael's Hospital sees at least one of these cases every week: a patient with severe abdominal trauma, including a bleeding liver. The only solution is to pack the liver with gauze sponges, apply pressure and hope the bleeding stops. It's a technique that dates back more than a century.
The problem: working blind, unable to see through the gauze, doctors can apply too much pressure to the liver. And the gauze can stick to blood clots, pulling them off when it's removed and causing more bleeding. Either way, the patient can die in the operating room.
Having treated hundreds of patients with liver injuries, Dr. Rezende-Neto came up with a solution that won him The Keenan Biomedical Innovation Award, and $150,000: an inflatable bag that contains the bleeding but allows doctors to see what they are doing and control the pressure.
He knew he had a simple, inexpensive solution that could save thousands of lives. But when it was time to pitch the project at Angels Den, Dr. Rezende-Neto wasn't sure how it would go.
"I felt a bit insecure because my device is so simple. Other people are pitching fancy technologies with computer design and programming, and mine is a piece of plastic."
But he knew what to do. "That comes from being a professor – a teacher – and coming from a family of teachers."
The award will help pay for prototypes made from medical-grade plastic, and for the first round of clinical trials. "Because of the high incidence of this trauma," says Dr. Rezende-Neto, "we can finish a meaningful study in a year.
"It's a simple device that works and works at a critical point in trauma surgery," he says. "So, it will have a huge impact."
On November 13, eight teams of physicians and scientists took the stage at Koerner Hall, competing in the final round of Angels Den, Canada's hottest and richest medical research competition. The contest awards $500,000 in funding to some of the most promising ideas coming out of St. Michael's Hospital.
The researchers pitched their projects to three celebrity judges – retail entrepreneur Joe Mimran, e-commerce pioneer Michelle Romanow and Quebec entertainment mogul Vincenzo Guzzo – as well as a jury of 39 business leaders, and an enthusiastic audience of 2,000 – half in-person and the others livestreaming at home.
Click here to learn more about Angels Den.