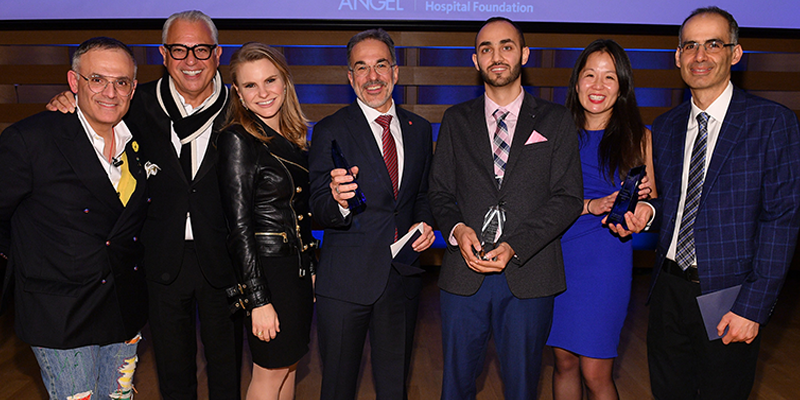 Events
And the Angels Den 2019 winners are…
Liver airbag, MS predictor and arterial disease diagnostic take home top medical innovation prizes.
If there is anyone used to performing under pressure, it's doctors. But the exam room or the OR is one thing… and getting up on stage in front of 1,000 people is quite another.
Yet that's where eight teams of physicians and scientists found themselves on November 13 at Koerner Hall. They were competing in the final round of Angels Den, Canada's hottest and richest medical research competition that awards $500,000 in funding to some of the most promising ideas coming out of St. Michael's Hospital.
The researchers pitched their projects to three celebrity judges – retail entrepreneur Joe Mimran, e-commerce pioneer Michelle Romanow and Quebec entertainment mogul Vincenzo Guzzo – as well as a jury of 39 business leaders, and an enthusiastic audience of 2,000 – half in-person and the others livestreaming at home. Watch the livestream here.
We spoke with the winners about their game-changing ideas and nerve-wracking experience at Angels Den.
THE WINNERS
The Odette Social Innovation Award: Dr. Jiwon Oh and Dr. Tony Antoniou for Tailor Made
The Keenan Biomedical Innovation Award: Dr. Joao Rezende-Neto for The Liver Airbag
The People's Choice Award Presented by Canada Life: Dr. Mohammad Qadura for Artery Alert
Angels Den 2019: The Odette Social Innovation Award goes to Dr. Jiwon Oh and Dr. Tony Antoniou who are personalizing treatment for Multiple Sclerosis
There are 14 different treatment protocols for multiple sclerosis (MS), but no way of telling which one will work best for a given patient. "We have very limited ways to predict how patients will do," says neurologist Dr. Jiwon Oh. "In the clinical setting, it's often almost trial-and-error."
Frustrated by the few answers she was able to give her patients, Dr. Oh teamed up with pharmacist and clinical epidemiologist Dr. Tony Antoniou, whose background is in HIV treatment.
The result of their collaboration is an artificial intelligence (AI) tool that can sort through enormous amounts of data and personalize MS treatment. That's what won them The Odette Social Innovation Award, and $150,000.
"Years ago, we had all these new drugs for HIV coming onboard, but didn't know how to use them really well," says Dr. Antoniou. "MS is in the same place today: there are more treatment options, but no great way to figure out how best to sequence them."
Their advantage: Canada's largest MS patient database that Dr. Oh set up in 2014. The plan is to build an AI system that will learn from the database and design a custom treatment plan for each patient.
Pitching the project on stage was "nerve-wracking," says Dr. Oh. "Koerner Hall is somewhere I've seen musicians play. But that made it a magical experience for me."
For Dr. Antoniou, it served a dual purpose: it secured research funding to hire a team of AI specialists, and just as importantly, it made their story public.
"Scientists shouldn't be operating in ivory towers," he says. "It's good for the public to know what we're doing. It brings people into the process, and takes a bit of the mystery out of it."
Angels Den 2019: The Keenan Biomedical Innovation Award goes to Dr. Joao Rezende-Neto who is saving livers and lives with a simple piece of plastic
The trauma unit at St. Michael's Hospital sees at least one of these cases every week: a patient with severe abdominal trauma, including a bleeding liver. The only solution is to pack the liver with gauze sponges, apply pressure and hope the bleeding stops. It's a technique that dates back more than a century.
The problem: working blind, unable to see through the gauze, doctors can apply too much pressure to the liver. And the gauze can stick to blood clots, pulling them off when it's removed and causing more bleeding. Either way, the patient can die in the operating room.
Having treated hundreds of patients with liver injuries, Dr. Rezende-Neto came up with a solution that won him The Keenan Biomedical Innovation Award, and $150,000: an inflatable bag that contains the bleeding but allows doctors to see what they are doing and control the pressure.
He knew he had a simple, inexpensive solution that could save thousands of lives. But when it was time to pitch the project at Angels Den, Dr. Rezende-Neto wasn't sure how it would go.
"I felt a bit insecure because my device is so simple. Other people are pitching fancy technologies with computer design and programming, and mine is a piece of plastic."
But he knew what to do. "That comes from being a professor – a teacher – and coming from a family of teachers."
The award will help pay for prototypes made from medical-grade plastic, and for the first round of clinical trials. "Because of the high incidence of this trauma," says Dr. Rezende-Neto, "we can finish a meaningful study in a year.
"It's a simple device that works and works at a critical point in trauma surgery," he says. "So, it will have a huge impact."
2019 Angels Den Winner: The People's Choice Award Presented by Canada Life goes to Dr Mohammad Qadura for a simple blood test to detect arterial disease
Dr. Mohammad Qadura was happy just to be an Angels Den finalist, which guaranteed a $25,000 prize for his research project. But when he won The People's Choice Award – an additional $50,000 – he was ecstatic. "It was a very joyful feeling that my message came across and the majority of the people in that hall loved it."
Dr. Qadura is a specialist in peripheral arterial disease (PAD), a serious condition that he says gets too little attention.
PAD cuts off blood flow to the muscles in our limbs, just as heart disease cuts off blood flow to the heart. "It's the same disease, but in a different part of the body," he says.
The problem is that PAD is difficult to detect. "We are way behind in the diagnostic department," Dr. Qadura says. "There has been a blood test for heart damage since the 1990s, but nothing similar for PAD."
And even worse, he says, "there is a huge lack of awareness among physicians about arterial disease and how to identify it." As a result, patients are often diagnosed only at advanced stages of the disease, which can lead to amputations. The fact that PAD is the greatest risk factor for a future heart attack makes it doubly important to recognize early.
Dr. Qadura's solution: a simple, inexpensive blood test to detect arterial disease at an early stage, and allow doctors to start a treatment. His research team has identified a marker in the bloodstream that points to the disease. The next step is to run trials to verify the discovery.
His pitch clearly resonated with the audience. Judge Vincenzo Guzzo even owned up to having several risk factors for PAD himself, and said he wanted to get tested.
Dr. Qadura's $75,000 will fund a multicentre study in the GTA, which in turn could trigger additional funding. But really, he says, "the most important thing is raising awareness of a debilitating condition that's on practically no one's radar."
Click here to learn more about Angels Den.